Goa is not always about parties, booze, and beaches, there's more to Goa than the very obvious things. When we talk about Goa, we talk about a place with rich diversity, you would find both the Indian and the Portugal touch in Goa. You can find the combination in their living & eating style as well. People in Goa eat a variety of food and it is because of the mix of religions that exists in Goa very harmoniously.
Goa's eating style is very different than any of the states in India, the way Goan chefs use kokum in the pork & chicken dishes or any of the seafood can amaze you & your taste buds too!
Check out the best dishes to relish in Goa
Best Goan Dishes you must try
Pork Vindaloo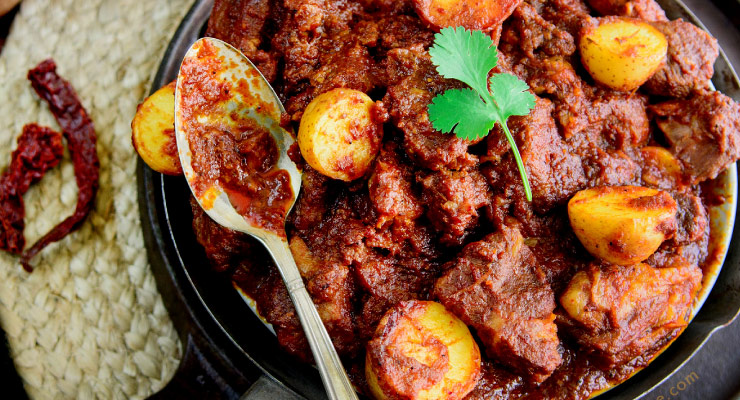 Pork Vindaloo has come to Goa all the way from Portuguese. Vindaloo is an amalgamation of two words which i.e. vinho which means wine & alho means garlic. Yes, Vindaloo is a dish that has got a garlic flavor with the slightest taste of wine in it. The pork/chicken is marinated in a spicy mixture to ensure you get the taste & flavor in every bite of your food. But there has been quite a change in the past years, the Goan chefs have substituted wine with palm vinegar & have added more spices like pepper, chilies, etc. to make it spicy.
Goan Red Rice & Fish Curry
Goan rice is way different than the normal white rice we eat in many parts of India. It is also called ukda rice. The Goan rice is unpolished slightest reddish-brown in colour and thick-grained. This rice has a nutty flavor to relish it with coconut curries.
Goa's famous Feni

Cashew Feni or Kaju Feni is one of the local booze of Goa. Feni and its existence in Goa are all because of the Portuguese as they were the ones who brought cashew to Goa. The Feni is nothing but the raw extract of cashew that a pleasant high. You can find coconut feni in the southern part of Goa which is fermented from the toddy of coconut palm.
Prawn Balchao
Prawn Balchao is basically eaten with rice or as a spread for the toasts. It is a spicy prawn pickle that is prepared with chilies and spicy tomato sauce, caramelized onions & coconut toddy.
Kokum Drink
Kokum is a fruit mostly found in coastal areas that are dried and juiced to use in most of the Goan cuisines to give a sour and tangy flavor to the dishes. The kokum fruit is rich in antioxidants & vitamin C, Goan people make a sweet – tangy – spicy beverage with coconut milk & some spices added to it which is indeed a relaxing & refreshing drink to beat the heat of Goa.
Goan Recheado Mackerel Masala
Goan Recheado Masala is a dish that is famous for its masala & the spices used to toss or grill anything on a pan. The unique masala prepared tastes so amazing that you can literally use it to coat anything irrespective of the fish, prawn, or any seafood & it would make it tastes rad! It is one of the basic & classic BBQ dishes of Gaon cuisine and goes best with any kind of salad.
BBQ Chicken Cafreal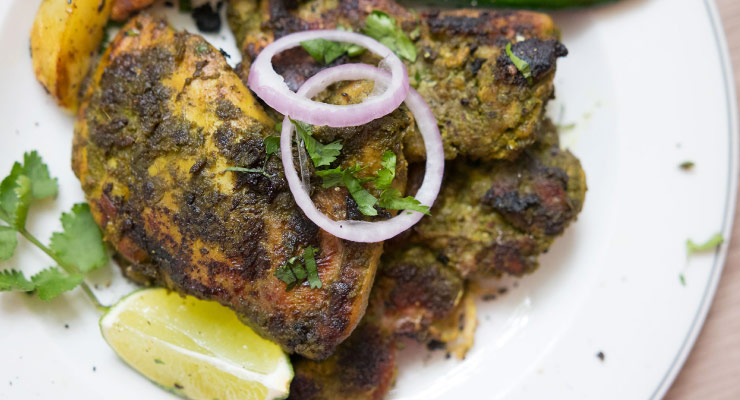 Chicken Cafreal is not only loved in Goa but all over the world. The spices or the paste used to cook chicken cafreal are basically grounded & roasted with all the spices along with vinegar, chilies, and tamarind paste. It is said that Chicken Cafreal has brought to Goa by the Portuguese who eventually got the recipe from a colony established in South Africa. So the origin of the dish is still undiscovered.
Goan Pork Roast
Pork is the most eaten in Goa, Goans love eating pork no matter how it is prepared. But Goan Pork Roast is most eaten among the other dishes. Goan Pork BBQ Roast is one of the classic dishes which is also known as Assado de Porco (the Portugal name). The best part of the dish is, it is cooked slowly over the fire stove or on an open-air BBQ.
Above mentioned are some of the best dishes you can have in Goa as you vibe different energy altogether. Eat the best seafood, roam around the streets & discover the local street food.
Well, you may also take up a yacht stay in Goa or book some luxurious cruise in Goa to spend nights there & indulge yourself in watersports for some adventure & fun! Yacht companies like Champions Yacht Club offer packages to book your stay, mouth-watering food & a grand yacht stay!
Find more about CYC: https://www.championsyachtclub.com/
Find amazing things about Goa! Reach out to our blogs here
Happy Goa Days!