Love is in the air. Love is all around. What if Love is found on the sparkling waters of Goa?
Goa is a place for not just fun and frolic but also touted as a popular romantic destination. The sun-kissed beaches, the breezy evenings, the line of swaying coconut trees – all these translates to create an ethereal experience for you and your loved one. With Valentine 's Day not so far away, why not indulge in a romantic getaway far away from the usual crowd to a secluded place? Resort accommodations are always a choice, but this time give wings to your imagination and gift your partner an amorous date on a luxury yacht.
To spend Valentine's Day in Goa is always a passionate one. Amidst a serene island surrounded with greenery, a luxury yacht, and a private boat on the river banks when you plan a candle light dinner with exotic dishes followed by dreamy music to sway on the dance floor of the yacht, you are just turning yourself into the most romantic partner that one can only imagine of.
Now what if all of these come together at a single place to make your dream come true? Loaded with many more features? All in Goa?
Whether you are a newly-engaged couple or the one who's celebrating a lasting love, this Valentine's Day break the shackles of monotony. Play the quintessential lover for your sweetheart and plan an aquatic getaway on the romantic waters of Goa.
Ignite your romantic desires with romantic cruise experiences on water like never before.  Bring your partner to long-stemmed roses, a romantic feast, a gala party & musical entertainment – all that your love can think of and let our crew providers make your evening an unforgettable experience with Valentine's Cruise packages – All of them Cupid approved!
Valentine's Day Sunset Cruise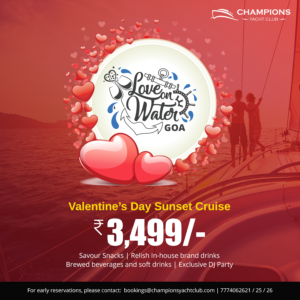 Everyone at one point time of their life has definitely marveled nature's way of beautifying the skies with beautiful red and orange hues of a sunset. Although such views can be seen from anywhere, certain parts of the world are especially famous for their twilight hues. The hills and seas are some places that can give you the experience. A twilight on the sea is most definitely a romantic view that enhances the ambiance of a special day such as the V-Day. It gives you ample photo op moments that you can relish in future.
A Sundowner Party on the cruise at Goa is pleasure treat for couples. With romantic music filling your ears and having the right drinks just build up the mood to enjoy a romantic setup with your Valentine.
Valentine's Day Candle Light Dinner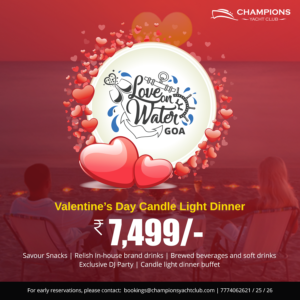 There are many reasons for the Candle Light Dinner to be considered as the most favored date plan. Adding more flavor to it is the Private Island, all to yourself, and a Luxury Cruise between the rippling waters and the swaying trees.
Dinner would be served to you and your partner in the most royal way. The regality of the entire affair teamed with ample drinks, exotic gourmet food and lively music would create an experience which will take a long time for you to forget.
Overnight Stay on Yacht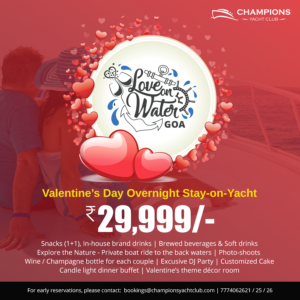 Complete your day of awesomeness with opulence and themed room for your stay. Enjoy the private boat rides in the backwaters. Get amazing pictures clicked by our professional photographers that would be the perfect souvenir of this memorable day out. Take your love to an all-time high with amazingly themed rooms provided with mood lights, morning wake-ups with the sea beneath, early morning cuddle in the lap of nature and balmy breeze to relax you.
The day is yours and the moments are yours to steal. There are no restrictions on the inclusions. So take up the no-holds-barred attitude this Valentine's Day and show to the world the prowess of your love.
There isn't anything impossible when you want to do it for your loved one! So why not plan a perfect Valentine's day party on Yacht in Goa to pamper your sweetheart!