An Overview
You know you are in Goa if you get soaked by the beach waves, adventure cruising, island hopping, yacht tours and a plethora of inviting water sports tempting you to try them out! Goa is indeed, a paradise of a total of 22 beaches naturally diversified into two districts: North Goa & South Goa.
But if you think beaches are the only source of fun & adventure, you are wrong! Beach adventures are way too mainstream; instead why not try out some of the exciting river adventures & activities that can offer you a whole new level of fun! And these are indeed such aspirational travel moments that money alone can't buy!
Time to turn out to be a river fanatic! Ditch the crowded beaches; the Rivers of Goa, the backwaters & the scenic wildlife of Goa are so unique in their potential to attract tourists that they speak for themselves for both leisure & adrenaline.
Goa reveals a number of unexplored and gorgeous rivers, tributaries and popular water bodies with breath-taking landscape that are flavourful attractions for the young & the vibrant crowd. And the best part? These river bodies are mostly isolated with only a handful of people around; so it's a cozy experience to devour all the fun & splendour with your special sweetheart, friends or family. It's a bet- you won't find this kind of serenity elsewhere!
About Goa River Tourism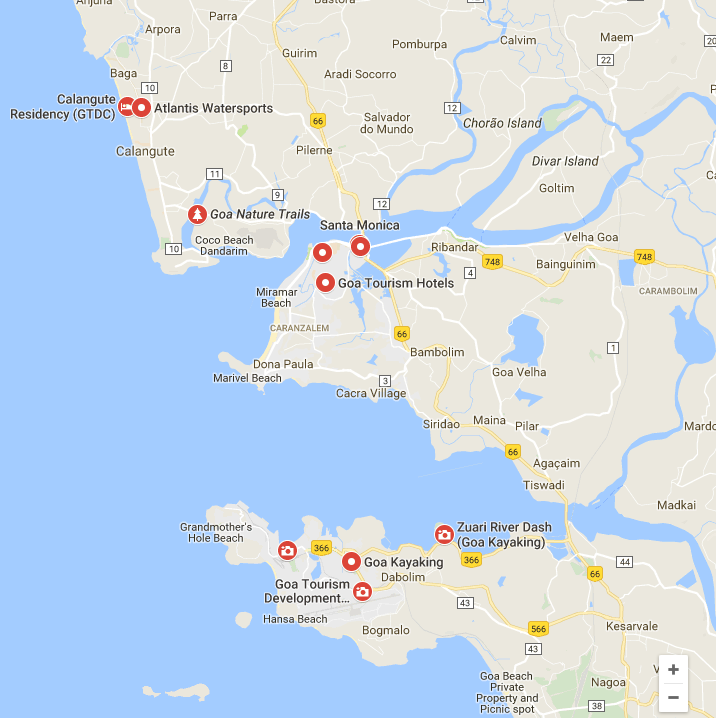 Goa Tourism- A roadmap
Goa has developed into a thriving tourism sector because of the presence of vivacious beaches, islands, the tranquil lagoons and blissful picturesque landscape. Located at the western coastal region along the boundary of the large sea coastline of the Arabian Sea, Goa is the paradise of the most exotic beaches surrounded by the lush greenery and fascinating backdrop. Goa is blessed with a total of 9 beautiful rivers joined by 42 other small tributaries that flows from the Western Ghats and then downpours into the sea. This frames an extensive network of navigable inland waters comprising the beautiful backwaters in Goa.
But unlike the beaches, Goan Rivers are the most unexplored & uncrowded destinations that opens up new possibilities for unforgettable sightseeing spots, water sports adventures & cruising opportunities to the discerned travellers.
Goa Rivers
The biggest & popular rivers of Goa such as Saleri, Chapora, Baga, Talpena, Zuari, Tiracol , Sal, Galgibaga marks Goa's entry into the exciting world of adventures in river tourism. Several isolated smaller rivers that flows criss-cross along the state will be adding up to the tourism flavour in the coming years. The most recognizable river bodies that deserve a visit are the Mandovi & the Zuari. These water bodies gives abundant opportunity to rediscover the calm & tranquil nature by means of outdoor water sport activities such as trekking, cruising, water adventures in Goa, underwater activities, Goa sightseeing and heritage, crocodile dundee, bird watching and more.
Goa's River Tourism
Nearly 4 million tourists visit Goa each year, out of which half a million are foreigners. So now you know the rising potential of Goa's tourism industry every year. Goa, the state that host many locals, domestic and foreign travellers is currently a tourism hotbed as special initiatives from the state Govt. is instrumental in boosting tourism. The flowing waterbodies has greater potential for water park tourism & river based transport systems.
Few waterfronts such as the Chapora River & the backwaters that remained untapped for a long time has forced Goa's tourism industry to exploit the rich flora & fauna along the River ways and develop certain points of tourist interest. With the intent to increase river transport usages by the govt., the growing importance of River jetties and small boats are greatly sought after that can aid to leisure tourism services, spread evenly across all parts of Goa, not just beaches.
Goa's Monsoon River Tourism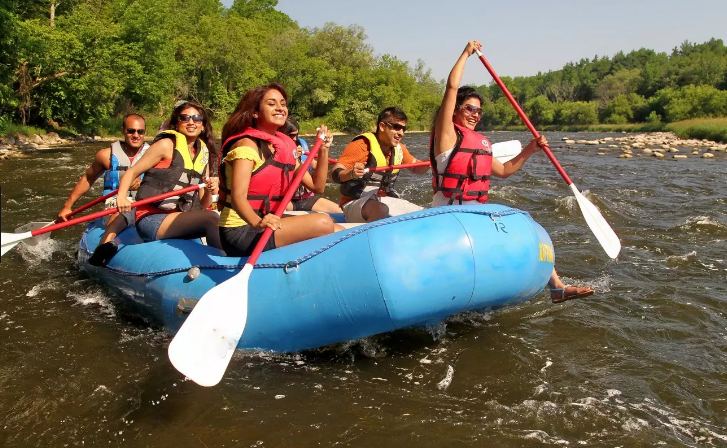 Monsoon River rafting
It's good news to lure the rain laden monsoon travellers that- as part of the Govt. initiative to revamp Goa's river transport system, monsoon tourism activities under the jurisdiction of the Goa Tourism Development Corporation (GTDC) are at the forefront to entertain the discerned visitors. Unlike the sea beaches that are comparatively risky to surf, now, a plethora of new River water games & sports activities & trekking backed by safety measures are all set to launch at the Western Ghats. With the onset, river system will be thriving as popular diving hotspot with loads of monsoon delights such as water sports adventures & diving activities for sports enthusiasts
Goa's Adventure water sports & activities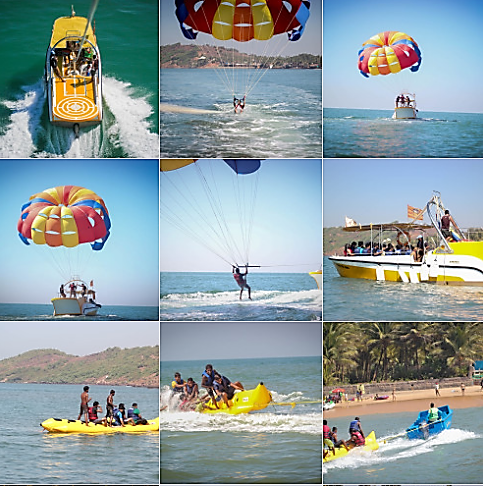 Goa's Adventure water sports
If you love boat racing amidst a peaceful ambience, Goan Rivers can offer you a unique leisure waterfront space & experience that is way too different from the sea waves. River water sports such as white water rafting, fishing, yachting, kayaking, Ringo ride, and paddle boat rides, canoeing, are just perfect adventure water sports to explore & challenge the river water currents. White water rafting is an easy-to-navigate all year-round adrenaline buzz. While it's easy to manoeuvre adventure kayaks downriver, canoeing is another fun-filled activity to try your hands on. Other water activities that you can test your marine skills are rowing and Coracling that adds loads of amusement to the tourists riders.
The beauty of the river water sports is that they are user friendly and can be tried and experienced by anyone; all you need to do is just practice a little balance & control, and there you are…ready to go! For novices as well as professionals, these river water sports are a great pastime and for adventure seekers, these are the best water sports to gather some real life time moments with friends & families. But don't you worry if you are a first-timer because even for the first-timers, river water sports offer something exciting.
Goa's Best River water sport activities worth trying
To help you find some of the best river water sports that you can enjoy in Goa, here's an extensive list that we have handpicked especially for you. Take a sneak peek!
Parasailing: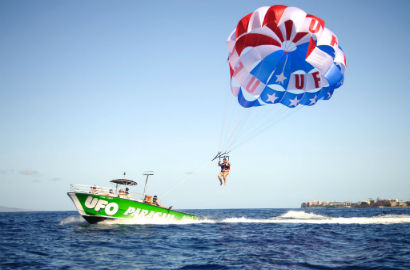 Where to try? Mhadei River
A popular water sport to try on, parasailing is an easy adventure water activity that you can try out. Take off to get a spectacular aerial view of boundless waters from a high altitude. Experience the adrenaline rush as you glide through the air! Enjoy the breath-taking view!
Water Rafting:
Where to try? Mandovi River
Away from the beach wilderness, white river water rafting is an adventure that offers plenty of thrills to the intrepid visitors. This up-and-go activity in a group is especially designed for lakes, rivers and seas where you can explore magnificent views & inaccessible river banks.
Flyboarding: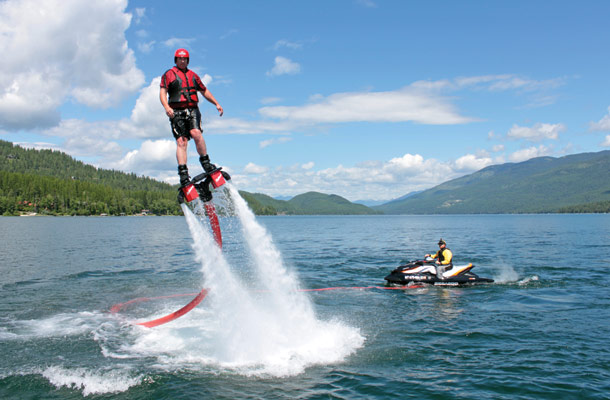 Where to try? Chapora River
This action sport activity is loaded with tons of uninterrupted fun and thrilling experience. Let water push you up as you stand high above the waters. Fly like a superhero up till 15 to 30 meters above the water pumping up your adrenaline. Make splashes as you swirl your fly board strapped at your feet up in the air to rotate and turn. Chase the ski, take 360 degree spins and S- it's a sensation that includes tips & tricks as you apply the skills of turns as you dive into the water and shoot back out again.
Ringo Ride:
Where to try? River Sal
It is an elastic ring shaped boat where you can easily fit in that is towed by the behind the speed boat. Whether single Ringo ride or doubles and bingo! Don't be afraid for a freefall in waters. Feel each bump, twists & trills as you splash through waters on the way!
Round Leisure Boat Ride: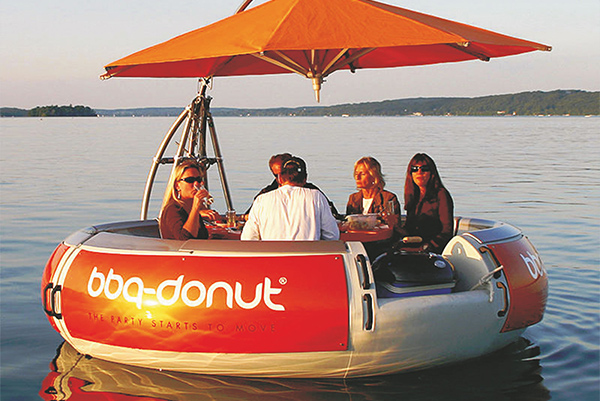 Where to try? River Sal
Round leisure boats are shared adventures for those who want to sail away the laidback time with all comfort. Try out a round leisure boat ride for a fascinating slow journey on beautiful calm waters. Explore pristine corners away from the hustle & bustle of the city.
Speed boat:
Where to try? River Sal
This is a great sightseeing tour to be enjoyed in a group as it speeds up. Experience this great thrill of speed, fun and adventure on-board as you top it up to 50mph. This passenger speedboat offers loads of fun to the young & the old when it spins at top speed, giving an adrenaline rush to the adventure junkies.
Swan/Pedal Boat
Where to try? Mayem Lake
For those who are looking for a relaxing experience, this is a thrilling ride to explore. Enjoy an intimate time with swan boat ride as you circle around the lake with your special one. Slow down your time for tranquil moment of peace and serenity as you pedal to explore the charms of the lake in a leisurely manner.
Kayak Ride: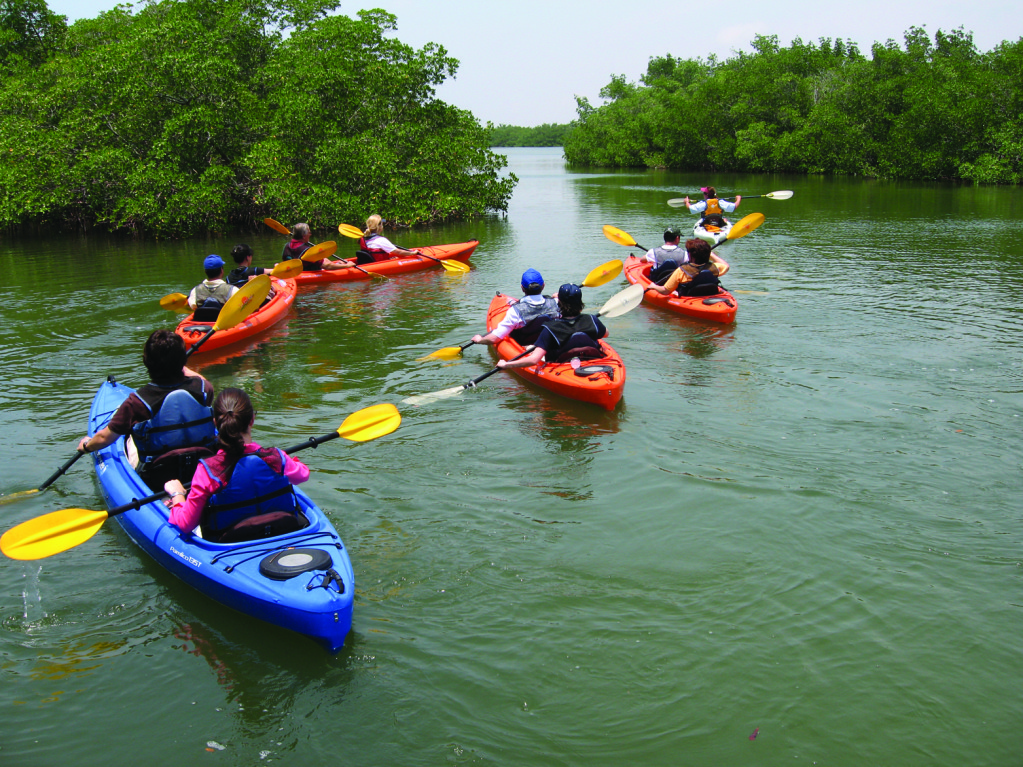 Where to try? Zuari, Mandovi River & the Sal
This is the most scenic sport to be enjoyed along the coast, rivers, lakes & backwaters of Goa. Glide through the excursion routes where you find the mangroves & other orchards to explore magnificent views abounding rare birdlife species and diverse flora & fauna. Ride your way on pristine calm waters!
Zorb Ball:
Where to try? Zuari, Mandovi River & the Sal
The best thing about this water sport activity is that you can fearlessly dive into the crazy water fun without getting wet! Yes, Rolling up and down or walking inside the transparent ball shaped space of unknown seems exciting! That's the fun more than scary that you feel inside a Zorb ball. Try it out!
Solar boat:
Where to try? Mandovi River & the Sal
Pollution free solar boats are highly enjoyable to take a ride on against the rhythm of the river. Feel the cool breeze as you ride this 100% solar powered boat on calm waters. Experience perfect leisure moments with family and friends.
Jet Ski:
Where to try? Zuari, Mandovi River & the Sal
For speed lovers, Jet Ski is the most cherished & exciting river water sports. Climb aboard the private Jet Ski for some quick action packed fun and entertainment. Enjoy a thrilling ride through the waves as you feel the water splashing by all around!
Cruising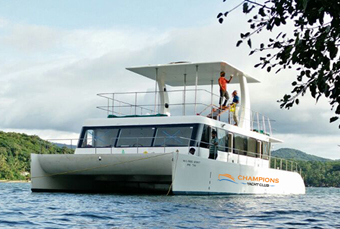 Where to try? Mandovi River
If you are a wanderlust explorer, river cruising opportunity is sure to leave you spellbound and in awe. Spend evenings at the top deck of the cruise on-board. Explore exciting and thrilling experiences packed with fun, excitement and luxury while cruising. The breath-taking views from the cruise deck and the LIVE music along with gourmet dining & attentive hospitality is sure to enrich the unique experience on-board.
Apart from these water sports & cruising experiences mentioned above, you can also enjoy various sightseeing, bird watching and riverside recreational hopping experiences that are of a great value for money. For bird lovers, Champions Yacht Club provides early morning boat services where you can spot some of the rarest species of birds. All these will definitely make your Goa vacation exciting and memorable. So, does this River water adventure beckon you?