The beauty about water sports is that you can be hydrophobic and still enjoy the beautiful waters available out there! Water sports in Goa is the best getaway an working man, or a man in love could ever ask for. Enjoy economical, beautiful watersports in Goa which require no swimming!
So hop on, don't take a regular, relaxing walk by the beach. Instead, discover the magical romance of the rain with the earth. Yes, most of the water sports activities are banned by the Govt. during the monsoons, Champions Yacht Club still takes the privilege to offer exciting water sports packages in Goa to the holidaymakers at any time of the year.
Banana Boat ride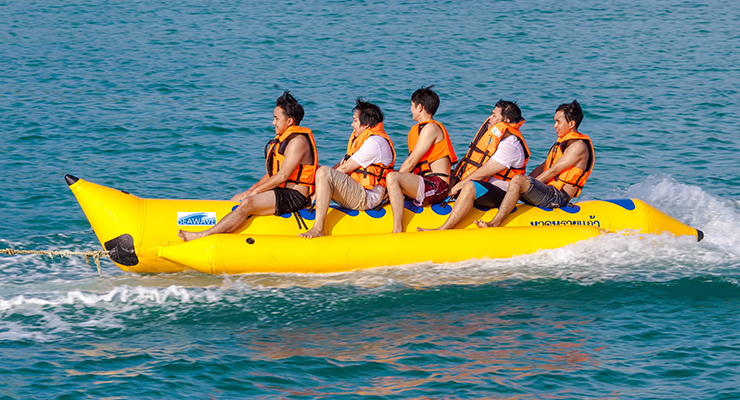 It's fun riding together! The excitement it delivers is similar to jet skiing where 6 people can ride together at a time. This wet and wild sport boasts of wave splashing experience as it glides for a scenic tour up and down splashing the waves all around. Explore the fun!
Guess what – it's just the perfect ride for families and friends of different age groups!
Scuba diving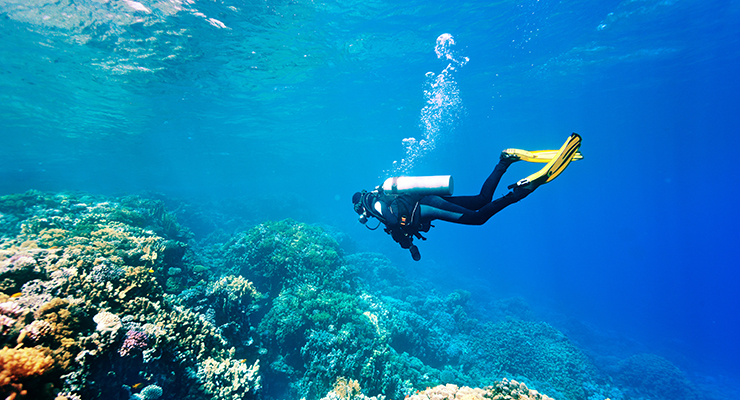 If underwater life fascinates you, scuba diving is just the right adventure for you.  Delve deep into the marine life and explore the mysterious underwater coral reefs & the entire eco system which is loaded with incredible fun below the azure waters. Get acquainted with many other breath-taking marine wonders as you dive into the exotic underwater world.
Here's a myth which has been clarified – you don't need to learn how to swim to scubadive!
Parasailing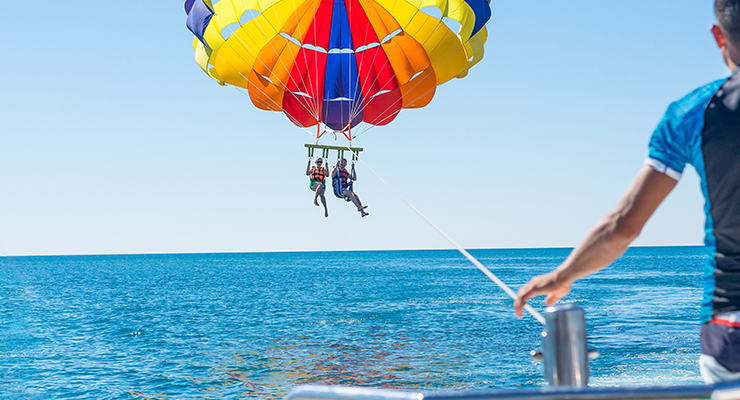 You cannot measure the vastness of the sky but with parasailing, this flight like a bird will let you witness the earth diameter more than 100 feet above, close to the propensity of measurement. This adventure sport is a thrilling activity of soaring high in air above the water level towed at high altitudes.
It's fun & mind blowing & offers great scenic views. Learn the art of balance, flow and glide with the breeze or simply go with the flow maintaining a steady mind-set. But make sure that you are armed with enough protective mechanisms for personal safety.
Fly boarding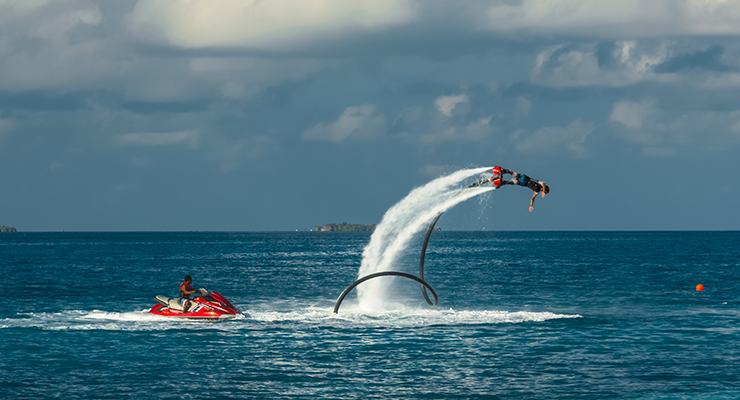 If you are a thrill seeker, fly boarding is something that you should definitely give a shot on. This action thriller ride is a flight above the sea level with incredible twists, sweeps and turns while flying!
Jet Ski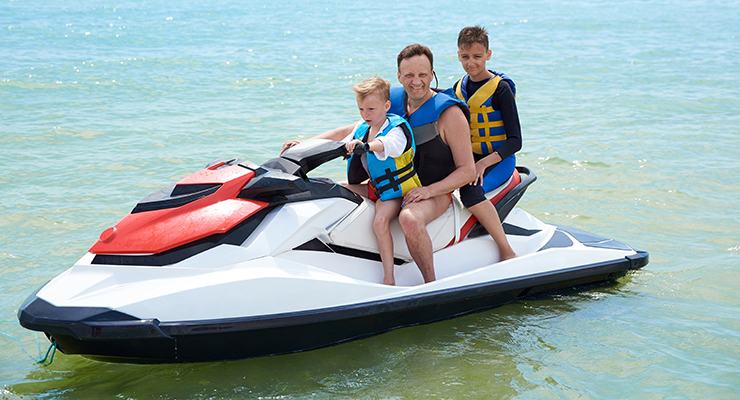 Jet skis are all about fun, quickness and happiness! If you want to explore the beauty of water waves at high speed, try this non-stop Jet Ski adventure rush. With warm waters splash, slides and glides through waves, the adrenaline pumping fun ride offers a chance to enjoy some serious fun on waves as well as catch a glimpse of magnificent sites across the coastlines.
Speed boat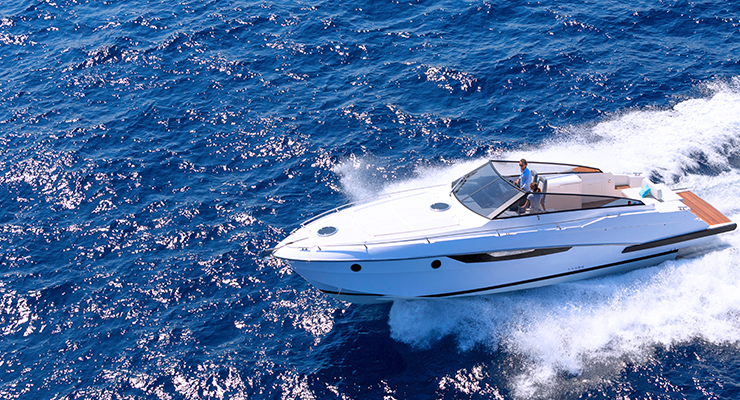 Be the captain of your own group as you explore this high speed fun activity on-board. Nothing beats the fun of navigating above the waters as you captain your own speedboat action-packed with thrills, high speed and adrenaline. Enjoy this great fun time together with laughter and screams by taking control by yourself.
Backwater Cruising
If you are in Goa and haven't experienced cruising yet, you are not a water baby. Take the backwater cruise along the Mandovi River, Islands, and others. Backwater cruising in Goa comes with an exciting mix of a variety of entertainment, sightseeing, dolphin spotting, crocodile watching, fishing activities and much more. Explore the fun.
Kayaking and Water Skiing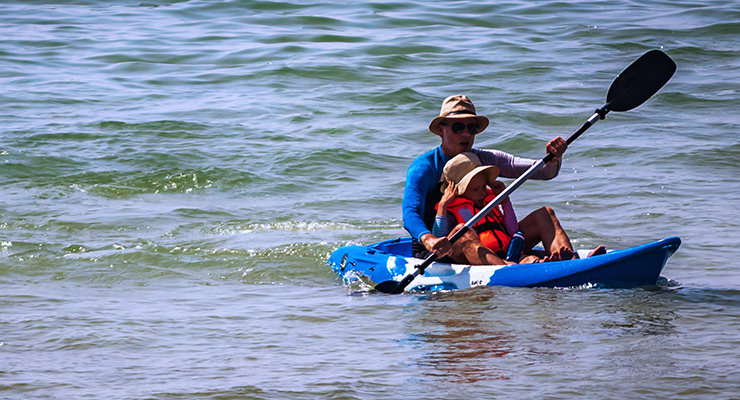 A kayaking trip Mandovi River during a fair weather and good tide is highly enjoyable. Explore mysterious surroundings in Goa's most scenic rivers this monsoon. Catch the bird and marine life around as you cross past the lush green mangroves by the scenic landscape. It's an absolute peace and fun.
For water sport lovers, this sport is the most adventurous sport to try on that requires the game of balance, patience and a lot of strength while riding on the waves. It's challenging and pure fun. Try it!
Paddle boating
Enjoy this flat-water cruising activity that includes a work out family fun coupled with adventure on waves. Make the most out of it as you sit and push yourself to the limit while paddling on across the river. Enjoy a great leisurely time with friends and family exploring picturesque views & aquatic life on wide open waters.
I hope this is good news for all the non- swimmers out there and swimmers too – Everyone gets to enjoy water sports in Goa! Especially rides like banana boat in Goa or scuba diving as well!