Imagine an intimate gateway – an Island with the utmost seclusion & privacy, deserted & being surrounded only by your own people. It's too much of a temptation. Isn't it? Adding up to the fun, there are excellent water sports adventures, exotic cruising in Goa, yacht party & boat party, overnight stay-on-yacht, great spa & lots of entertainment bounty – all  just perfected by the art of a laid back luxury. Goa is known as the Queen of Beaches but to find out which Private Island spells the right fit to your taste & requirements seems a challenge.
Private Islands
Private Islands with isolation are just like private heavens to spend your dream holiday. For sporty holidaymakers & party freaks it's a spectacular paradise designed for hosting private parties, wedding on yacht, party on cruise, corporate party on yacht, birthday party, reunion bash or any other celebration at an unspoiled location amidst stunning serene & natural marvel.
Goa is blessed with many unspoiled beaches & beautiful Islands but to make your moments truly magical, there are some exclusive beaches that are perfectly accessible for full day private hopping, cruising, boating, water sports or just revel in ultimate solitude.
Having investigated many, we share the top six of the best private Islands in Goa and what you can do around in order to help you find the right one.
Chorao Island (Panjim)
Charao Island is one of the largest Islands in North Goa situated just beside the Divar Island, ideally suited for family holiday.
Location:
Located along the Mandovi River, this beautiful island is adorned by dense mangrove forest; some of them even grow on the enchanting backwater surface that can be best navigated using a canoe.
How to reach: You can either use a regular ferry boat from Ribandar village or any other jetty or by canoe (small boat).
Things-to-do:
Blessed with rich flora & fauna, this Island boasts of the largest Salim Ali Bird sanctuary which is a home to about 400 species of foreign & domestic birds.
As you navigate the Island with a short canoe ride, you will discover inspiring Portugal culture & customs, their architectural design work & the traditions of Indian Brahmins. Once you cross the Mandovi Bridge, don't forget to get a look at the Reis Magos Fort, Miramar beach, Hotel Marriot & the interesting river mouth of Mandovi.
Conco Island (Canacona)
Popularly known as the Monkey Island as it is a home of a lot of hidden shy monkeys, Conco Island is a 5 acre lush green Island situated at the bay of Palolem beach.
Location:
The Island is located in Canacona near the Agonda beach.
How to reach:
Take a 20 minute boat ride to reach the Agonda beach which is closest to the Conco Island. The other way to reach the Island is via boat ride starting from the Palolem beach.
Things-to-do:
For beach hoppers, it's a chance to rejoice as a lot of beaches such as the Palolem beach, the Agonda beach surrounds the island where you can catch a glimpse of some amazing scenic views. Take a short swim on the low-tide waves or take a short boat ride. If you are lucky enough, you can even spot a few dolphins & their acrobatics on the Palolem backwaters during your ride!
San Antonio Island(Vasco da Gama)
If you are a nature lover from heart, San Antonio Island is worth a visit! This serene yet unexplored Island offers a great tranquil atmosphere which is ideal for relaxing & resting.
Location:
San Antonio Island is located just about 1 km away from the Vasco Da Gama coast.
How to reach:
You can reach the Island via the Vasco-Panaji coast road towards Vasco Da Gama coast.
Things-to-do:
The Island is most popular for adventure seekers & nature lovers. Water sports enthusiasts can enjoy limited water activities apart from fishing & swimming.
Divar Island (Panjim)
This serene Island named Divar across the River Mandovi coast is a mesmerizing alternative for tourists to hop around as it's a fascinating isolated abode embracing the age-old ruins of religious ethnicity & typical Portugal colony. Enclosed by lovely forested hills, this quaint & tranquil nature of the River Island is a nature's irresistible charm & a true sight to behold.
Location:
Divar Island is located near to Chorao which is roughly 9 kms from Panjim.
How to reach
Take a free ferry ride from Old Goa (near the Viceroy's Arch) to reach the Southern Island while the East end side of the Island can be reached by a ferry ride to Naroa.
Things-to-do:
Although known to a few, Divar Island is a historical place for visitors where major festivities, events of fun & revelry galore. The laidback lifestyle of the region speaks of typical Goan fenny, the local liquor & Portugal heritage – all counts for perfect holiday retreat! The Island is an abode to many ancient temples, churches & chapels that depicts the age-old story of Island's religious transformations.
Apart from the Island hopping experience in Divar, the backwaters of Divar offers many enjoyable ferry rides. Enjoy your entire holiday trip with Champions Yacht Club which is a service provider for luxury sailing experiences. The Club offers Yacht and Boat hires, luxury yacht & boat party, overnight-stay-on yacht, day & night cruise party in Goa and a series of water sports adventures for water sports lovers.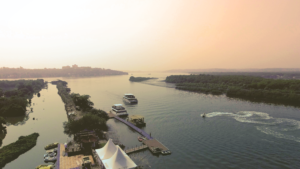 Take a 30 minute luxury cruise ride to the Brittona jetty to explore the rich flora & fauna across the backwaters of Divar Island. The Island backwaters are ideal for myriad water sports activities such as Jet Ski, Banana ride, Bumper ride, kayaking, Kayaking, Eco friendly boating, Zorbing and many more that you can enjoy.
Butterfly Island
Popularly known as the honeymoon Island for loving couples, this private Island is a nature's marvel & muse for many passionate lovers. It is known as the butterfly island due to the presence of a millions of exotic species of butterflies gliding over the hilltops. The picturesque semi-circle shaped landscape of the Island encircled by plush forestry is a blessing for ultimate privacy & tranquil experience. It is also a hidden treasure for enjoying a series of adventures, experiencing the magical aquatic life, & watching dolphin acrobatics.
Location:
The Island is located along the coastline of Palolem beach and about 37 kms away from Margaon by road.
How to reach:
You can access the Butterfly Island via road (43 Kms) from Margaon or about 76 Kms road ride from Panaji. You can also get there by a short cruise ride starting from the Palolem beach or just 200 meters ferry ride from the mainland.
Things-to-do:
Enjoy breath-taking sunset view at its most natural setting from the Island. A dolphin trip to butterfly island is a must-to-watch the splendour. Spot dolphins & their playful activities or simply take a delightful tour with boat ride above the translucent beach waters around the island. Apart from thrilling canoe riding, other activities which you can try around the beach are sunbathing, trekking & rock climbing.
San Jacinto Island
San Jacinto Island is a tiny private Island situated in South Goa. The Island is enveloped by lush green landscape with mesmerising natural views. This exotic Island is the most secluded & tranquil paradise with pleasant beaches that will definitely enthral you with all the charm. Known for non-commercialisation status of the land in order to protect from outsiders, the speciality of this beach is the unexplored picturesque surroundings with natural charm & peaceful private ambience the islet beholds.
Location:
The tiny Island is located in Mormugao bay, about 5 kms from the Bogmalo beach and just few kilometres north-east from the Dabolim International Airport.
How to reach:
Hire a rented boat to access the Island in the Mormugao bay.
Things-to-do:
The Islet is popular for photo fanatics, nature lovers & adventure seekers. Exploring the charm of the Island with adventure trips, tours & excursions amidst the breath-taking landscape can give you exciting holiday goals.
Is that all that conjures up for a perfect memorable escape in Goa? Wait. Probably there's more. The exclusivity of each secret deserted Island getaways is so refreshingly secluded that the exclusivity is incomparable to the other. With the list of these top private not-so-familiar Island escapades, your holiday experience from this picklist is surely not to disappoint you.