'Love' this four letter word has the most magical feelings. It is said that, the best and worst thing about love is that it cannot be expressed in words. Although you cannot express your love towards your partner through words, you can express it in a million other ways. So we are giving you some ideas to express your love.
Now it is the month of February in the calendar and love is in the air. Valentine's Day is coming within three days. So it is the perfect time for you to make a perfect date with your partner in some romantic place. As Goa is the romance capital of India, it is the best place for you to express your love. In this upcoming Valentine's Day Cruise Goa is ready to welcome you with a lot of stunning ideas to make your day special.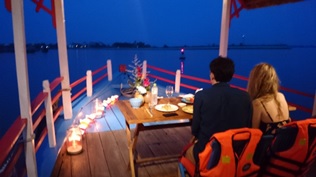 A Romantic Evening:  On this valentine's day you can spend the whole  evening with your partner on a romantic cruise.  There you can enjoy the beautiful view of sunset from the open deck of the Cruise. Thereafter you can enjoy your dinner with various delicious foods. If you want to have a candle light dinner with your partner there will be arrangements for this. They will also provide you with the facility to decorate your seats according to your choices. Can you imagine a moving Cruise on the Arabian sea, romantic music in the background and you and your partner are sitting beside each other holding hands? Is it sounding like a dream? So make your dreams true by booking your seat on a Cruise on the evening of 14th February.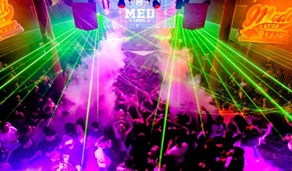 Night party: Is your partner a party lover? If both of you love the endless rocking music, drinks and dancing on the dance floor, there are a lot of nightclubs who are going to arrange valentine day special night parties. You must fall in love with those love mashups, must feel the party vibes and must enjoy the whole night on the dancing floor with your lover. There will be many exciting games for couples and both of you must take part in getting exciting gifts. These night parties take place on the various beaches of Goa and some parties are held on the moving Cruise. You can book your seat for the night party according to your choice.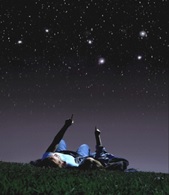 Stargazing:-Although most of the beaches of Goa are crowded for the whole night yet there are some peaceful beaches like Mandrem Beach, Hawaii Beach, keri Beach, Siridao Beach where nights are free from the usual crowds. There you can see the beauty of the night sky full of stars by laying down on the beach with your partner. It is amazing to spend some quality time with your lover on the lap of nature in this way. If you are a lover of nature you must include this activity of stargazing in your planning.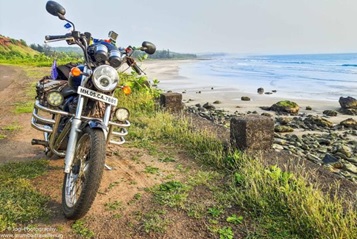 Bike trip:- Goa is a place where bike riding is more exciting than a car trip. It is very adventurous to visit Goa by riding on a bike with your partner. Here both of you can spend some quality time with each other. Morning time and afternoon time are the best times to enjoy bike riding. During these times you can enjoy the sunrise and the sunset together which is most relaxing and romantic also. Some popular bike routes are – road trip to the islands of diwar and chorao, road trip to para etc.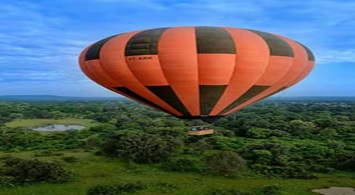 Hot Air Balloon Ride:- The hot air balloon is one of the popular activities in Goa on valentine's day. Nothing can be more romantic to enjoy the amazing view of Goa together from a height of 400-800 feet in the air with your lover. When the balloons smoothly and silently rise towards the clouds it gives you the feeling of a paradise. So this hot air balloon ride can give both of you an unforgettable experience on this Valentine's Day.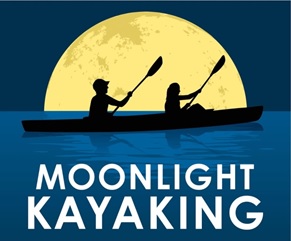 Moonlight kayaking:-  A moonlit light is always romantic. But kayaking with your lover in a moonlit light is a perfect mixture of romance and adventure. It is amazing to see the unique beauty of nature when the moonlight falls on the water. Here you can feel the beauty of love through the silence of the night. This breathtaking life long experience can make your valentine's day more special.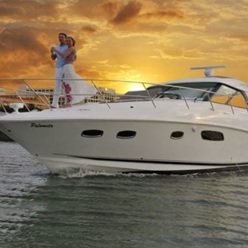 Private yacht trip: – If you want to spend the whole day with your partner by sailing on the Arabian Sea you can book a private yacht for the whole day. It is like a small house boat. Here you can decorate the whole yacht according to your choice. There must be special arrangements for your favorite foods. It is sounding like the life of a king. Isn't it? The advantage of this trip is it is your private trip. Nobody will disturb you here. As the trip is for the entire long here both of you can enjoy the sunrise, sunset and the beauty of the night Sky from the open deck of the yacht.
Last but not the least; Valentine's day is a day to celebrate love. It is not only celebration but also spending quality time with your loved ones. Only both of you can make this day special together. All these arrangements can create a romantic environment but it is the bonding between both of you which can give these planning a great success. If this is your 1st valentine's day then it must be so special with these special arrangements. But if you are married and forget to tell your spouse how much you love him/her it is the best way to express the love and create some wonderful memories together. So what are you waiting for? Make an outstanding plan to surprise your partner on this upcoming Valentine's Day.