From waterfront, break around to local food delight: 5 days exploring Vijayawada!
What if I tell you to take a holiday trip in Vijayawada and come back all the way more victorious & richer?
Yep, discovering the city of victory, Vijayawada – the laid back time, discovering spell bounding routes, the rich culture & politics, exploring thriving business hub for shopping, best varieties of vegetation, mesmerising medley of nature, the scenic vistas of hills, the Rivers & island galore, the geographically rich city & it's delicious local cuisines – for those who are bitten by the travel bug, all makes it up for an interesting eye candy treat! But wait, if you are worried about spending, you need not be stingy on your pockets as Vijayawada is gonna be an affordable destination (seriously it is!)
So, stop spending, start experiencing…
Well, the best part? A series of sailing around with best enthralling water sports at the waterfront! If you are still not driven by the thirst of a serious case of wanderlust, I doubt, what will!
About Vijayawada Tourism:
Nestled peacefully on the banks of two great Rivers, the River Krishna & Budameru, Vijayawada is a city in Andhra Pradesh located about 5 km away from the Amravati, the state capital.
Vijayawada is famous for its educational worth for students, the cultural heritage, trade & commercial business hub, agricultural richness, & a diverse historical glory known for preserving ancient ruins that makes the city a veritable paradise in itself. The city is surrounded by spectacular scenic hills full of lushness that offer an extensive selection of sightseeing spots to build out your travel itinerary.
Apart from numerous caves & temples, Vijayawada is blessed with an enchanting beauty of lakes & River Island, forts, Buddhist artefacts that has paved the way of making it a favourite tourist spot especially for family vacations or romantic getaway!
If you are worried about the accommodation part, thanks to tourism opportunities, you have ample choices of well-maintained hotels equipped with a variety of amenities that you can book without much ache to your pockets!
So, pack your bags right away and embark on spotting on the best places of adventure & taking a tour in and around Vijayawada – wouldn't that be a life? Count upon these experiences as you plan beforehand & let these experiences be your guide!
Day 1: Be a religious or history buff
Interest level: If you keep special interest in historical architecture or you are an ardent spiritual fanatic for historic & religious lessons, you are just at the right place!
The Undavalli caves
Just 6 km away south-west from Vijayawada, you will find the India's ancient & medieval rock-cut architecture, "The Undavalli caves situated in Guntur district of Amravati region. A large volume of carvings abided by solid sandstone dated back to 4th & 5th century A.D. depicts sheer architectural skill to leave you spell bound. You will find a trail of Buddhist artefacts later converted to Hindu temples.
Mogalarajapuram Cave :
The ancient Mogalarajapuram Cave is situated 11 km away from the city of Vijayawada and its formation dates back to 5th century A.D. The cave actually houses three temples that form the landmark of the rich cultural heritage of Vijayawada.
One interesting fact about this cave is that it is assumed to be used by the Buddhist monks as the carvings of Buddha were later transformed into Hindu idols.
The cave claims a significant landmark of interesting carvings inside the temples where you will find religious idols of Lord Vinayaka & Lord Nataraja & the shrine of Goddess Durga. The cave also houses a massive carving of Lord Ardhanariswara which is one-of-its kind in Sothern India
Kondapalli Fort:
Situated at a distance of 16 km away from the city of Vijayawada, the Kondapalli fort is just one hour drive away.
Get schooled with the Reddy dynasty founded by Prolaya Vema Reddy, the builder of Kondapalli fort, who has built it close to his capital Kondaveedu. One intriguing feature of this fort is that the main entrance is made up of one single rock of granite while the other entrance known as the Golconda Darwaza serves as a gateway to the Jaggaiahpet Village.
With time, the kingdom that was reined by many other successors turned into flourishing business centre. The main attraction of the fort is the crest known as Tanisha Mahal or Palace. Apart from these, the inside of the fort features the Rani Mahal, the Dancing hall & the Arched hall. You will also find a reservoir & several other ruins inside the fort.
Tip: If you love light weight colourful wooden toys or other handicrafts, this is your chance to pick your favourite one as the Jaggaiahpet Village is famous for handicrafts.
Victoria Jubilee Museum
Located in Bandar road, Vijayawada, this archaeological museum was established in the year 1887 which is famous for its interesting collection of artefacts & sculptures. One major tourist attraction for is the colossal black granite statue of Lord Buddha that dates back to 3rd and 4th century A.D and has been well-preserved since ages by the government.
Built in an Indo-European style architectural framework, the museum displays a huge number of ancient idols, sculptures, stones, pottery, tools, inscriptions, cutlery, weapons, coins, metal works & paintings.
Kanaka Durga Temple:
Situated along the bank of Krishna River, you can visit the famous shrine of Kanaka Durga. To reach there, drive up to the Indrakeeladri hills amidst the serenity to find the temple precisely built in the fashion of ancient Dravidian architecture. Known for one of the 108 famous shakthipeethas, the idol is one unforgettable sight to behold for the devotees.
If you are lucky enough to visit the temple in the month of September, don't miss the opportunity to seek the Goddess blessings on the nine days revelries of Dasara Sharan Navarathri celebrated every year with great pomp and gaiety.
 Other popular religious hotspots   
Apart from the above mentioned places of interest, the Subramanya Swamy Temple (4 km from Vijayawada), Hinkar Thirtha (20 km from the city), Gunadala Matha Shrine (1 km away from city-centre) are a must-to-visit places that adds up to the main attractions of Vijayawada.
Day 2:  Explore nature & shop till you drop
Interest level: For those who are nature lovers, Vijayawada is an interesting retreat away from the hustle and bustle of the city into the lap of tranquillity & nature.
Rajiv Gandhi Park:
Experience the freshness of delightful evening visiting the Rajiv Gandhi Park, situated at the entrance of the city. The Park is a gateway to the city of Vijayawada that welcomes its visitors with greeting of horticultural network & recreations that includes awe-inspiring trees, attractive flowers, lush green lawn & sidewalks.
You can also learn some awesome facts about the animals belonging to pre-historic ages from the replicas put up at the park. Also make sure you catch the bedazzling live musical fountain show that secures a favourite spot for the young & the old.
Besant Road shopping:
When you have come a long way to Vijayawada, why wait more for some real-time city shopping? You gotta go straight to the Besant Road to try out the local delights & colourful handicrafts that you can buy as home gifts for your close ones.
Here you can find a multitude of shops that sells handwoven Mangalagirisarees with colourful intricate designs to take your pick! And for some serious pickle lovers- time to grab your favourite mouth-watering local mango pickle-Avakkai, a local delightful tongue teaser prepared by locale experts!
So now, would you still advocate for online shopping?
Day 3: A visit to the River Islands
Bhavani Island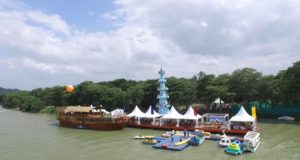 Interest level: 
For all nature & water lovers, explore some of the best family-friendly Islands & some serious water sports adventures in Vijayawada – so untouched & peaceful with absolute privacy, that you won't find it elsewhere!
It ain't a holiday without some serious fun & relaxation on Island…and the best choice is the Bhavani Island.
Located in the midst of the Krishna River is the Bhavani Island is just 4 kms away from the city and needs no introduction. This is one of the favourite Islands for visitors & the largest Island in Vijayawada, ideal for private picnics as it is surrounded by mangroves & well-maintained gardens. You can just laze around, play, eat, enjoy or simply relax along the pristine Island-your choice!
The River Island comes alive with multi-hued golden sunset presenting a panoramic view that's worth beholding. Spend some tranquil moments with your loved ones amidst the mesmerizing greenery and enjoy a lot of activities such as
 Fishing
 Boating
 Water sport adventures
 Swimming
Cruising for pleasure
Ropeway
You can also jett-off to the Island for an awesome sailing experience and in return you get to enjoy an overseas feeling, the vibes that gets you instantly connected to the place.
Prakasam Barrage
Built across the Krishna River at the outskirts of Vijayawada, sited the huge Prakasam Barrage. This is mainly a road bridge that associates three water supply canals to facilitate water passage to the thermal plant station. Mainly used an irrigation project, this bridge on the Krishna River offers an excellent panoramic view & the delightful breeze during evening decked with colourful lightings at night. The place is also an all-inclusive adventure zone where you can explore exciting water sport activities such as boating, water scooting and parasailing.
And for selfie-lovers & photo fanatics, it's bliss to capture some great private moments as well as photos of some rare species of migratory birds if you are lucky enough to spot them from the barrage.
Day 4: Tasting delightful local flavours
Interest level: If you are a foody, find the soul in delightful lip-smacking local Andhra flavour waiting for you to taste & try.
Make a reservation at…
Lotus – The Food City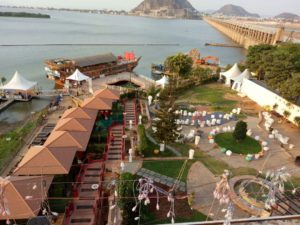 The best part about this restaurant is delicious contemporary cuisines served at the waterfront sit out set-up, located just beside the Krishna River, across the Prakasam Barrage.
If you are visiting Vijayawada, it's a sin to miss out the lip-smacking spiciest Andhra biriyani, tangy taste of curries and the chilly- tangy combo of snacks & semi- gravy delicacies. If you are a vegetarian, the tangy Mughal flavours of vegetarian thali are an ultimate vegetarian delight. Relish it & thank us later!
Also not-to-miss local items such as Chepala pulusu, Royyala iguru, Jinga masala, Pachadi, Kodi vepudu, Lasooni machi tikka, Minapappu(Laddu made from roasted Urad dal) , Nellore Chicken Biriyani, appu Koora (Lentil based dish) and many more delicacies within the menu! Enjoy the meal coupled with LIVE music. It's indeed, phenomenal!
Minerva Coffee Shop
The speciality of this coffee shop is the authentic steaming filter coffee to enjoy.
This is an exclusive vegetarian cuisine restaurant with a huge fan base since ages. Relish the taste of the authentic steaming filter coffee that surpasses the taste of any contemporary coffee shop. The restaurant also serves sumptuous food for its patrons.
If you are looking to try out delicious top-notch dosas & grab some quick delicious snacks, this is where you will find it!
Sweet Magic 
Ah! Sweet magic? What's so sweet about it?
But it's more than a name! Originally started as a traditional sweet store in Vijayawada, it has spanned across the city with many outlets to include traditional local cuisine of the regions.
For Biriyani lovers, this is an absolute Biriyani paradise with 15 varieties of Biriyanis to try out! Yummy!
Sizzle up your taste buds with the super spicy famous Red chilli biryani, Prawn biryani, Ginger biryani, Ulavacharu biryani, Avakai biryani, Mutton keema biryani, and the all-time favourite Dum biryani. If you still don't try out, you are seriously missing something
Day 5: Nightlife partying at the waterfront.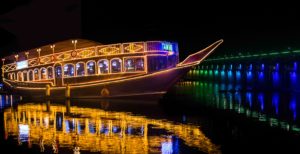 Have party in mind while you are in Vijayawada? Time to try out this luxury floating restaurant-Tanvi River Cruise, the floating platform that makes up for an extraordinary venue for group partying!
Yes, on the waterfront side! Get into the party mode with an ultimate waterfront party and dining adventure. The waterfront party cruising offers its patrons a whole new level while cruising along the magnificent Krishna River waterfront. Chill out sipping delectable flavours of drinks, munching snacks & dancing on the beats of foot-tapping live music. Cap off the magic of the night vibe on floating cruise!
For on-ground party lovers, Vijayawada offers real party entertainment to the youths. Head on to the "10 Downing Street" party pub with your friends where you can party with non-stop rocking music and dance the night away. Keep Partying hard!
With so many flavours to try out and experience, do you still need a reason to visit Vijayawada for this holiday rendezvous? Get it all covered!