"Travel" is the most underrated word right now given the current situation of a pandemic world. But it does not have to stay that way for long. Calm your travel crave at the most exotic cruise in Goa at Champions Yacht Club.
The days of sailing were thought to be over but they're coming back with a vengeance. More and more people want to be environmental-friendly by co-operating with the rigorous safety measures followed when they sail on a cruise these days during the pandemic. You can't get much greener than sailing over a luxurious yacht!
It's just a matter of time before you can onboard Champions Yacht Club's yacht charters, private boat rentals, and luxurious cruises in Goa. When the situation heals, we will have our valued guests on board again, and this time with much more warmth and safety.
The demand from guests worldwide to come back is always overwhelming and we can no longer wait to hit the waves again!
With our teak-lined decks and billowing white sails, luxurious amenities, gourmet cuisine, exceptional service, and with only 10 to 300 guests on-board, our vessels allow clients to soak up the ambiance of almost owning a private yacht. Now isn't that something you would love to experience?
So let's dive into the best options provided by Champions Yacht Club to calm your travel craves in Goa.
1. An extravagant Honeymoon on a Yacht Charter in Goa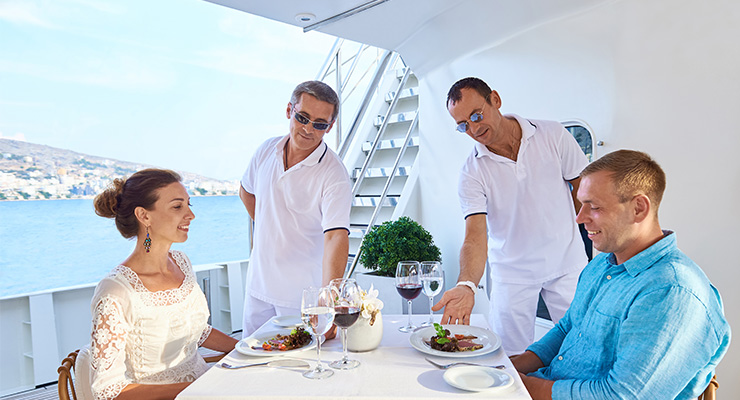 Goa is as much a romantic destination as it is a party place. A honeymoon over a Yacht is pretty much the best destination for any newlyweds looking for a romantic getaway. A beach stroll or a road trip is the usual staple for couples in Goa. Here are some things you can do to spice up your honeymoon yacht charter at Champions Yacht Club.
An exceptional view overlooking the Arabian Sea from a slow-paced yacht is an ultimate experience with style. Also, not to be missed is the beautiful sunset along Goa's west coast especially during the summers when it can last for almost 20-30 minutes.
A Goan honeymoon on a yacht is way different than a regular honeymoon by a beach or within a city. Above everything that Champions Yacht Club provides as part of its services and facilities, one thing that actually makes a yacht honeymoon special is its naturally romantic setting.
Having a candlelight dinner, speeding above a vast water bed, and enjoying the view of the moon-lit sky, no amount of words can express the fulfillment the whole experience can bring in at the moment. If you are planning for an extravagant and private honeymoon in Goa, contact us and we promise to make it even grander than you imagined.
2. Water sports for the adrenaline pumping rush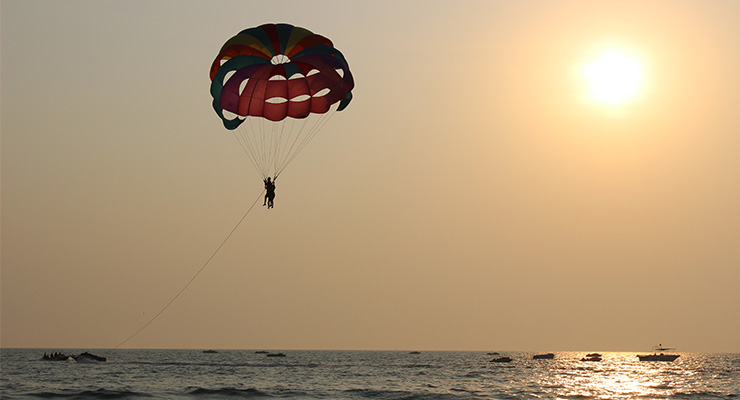 For a few people, the bird's eye view aboard a boat just doesn't cut it anymore. Getting right into the action is where it adds the spirit. And our Champions Yacht Club team is more than happy to cater to all your adventurer and explorer needs.
With us, you can ensure your yacht vacation will be filled with exciting water activities, which also comes with a customized package. So you get to choose your best water sports for the day! We want our guests to enjoy our abundant variety of water sports and swimming right off the back of the yacht.
What is yachting without the proper toys? Champions Yacht Club is equipped with all the water sports required for an exotic yachting vacation. Multiple marina days allows for more time to enjoy the personal sailboats, Catamarans, kayaks, Scuba Diving, Parasailing, banana boat, tube, water skis, snorkeling gear, floating island & trampoline, stand-up paddleboards, wave runners/jet skis and so much more. Our crew is always available to ensure your safety and enjoyment (weather permitting).
For guests perhaps looking for more high adrenaline activities or simply prefer guided tours, we also have them covered with a wide selection of Yachting and Island Adventure excursions that feature exhilarating water sports for all experience levels.
3. Have an open-air BBQ date aboard your cruise in Goa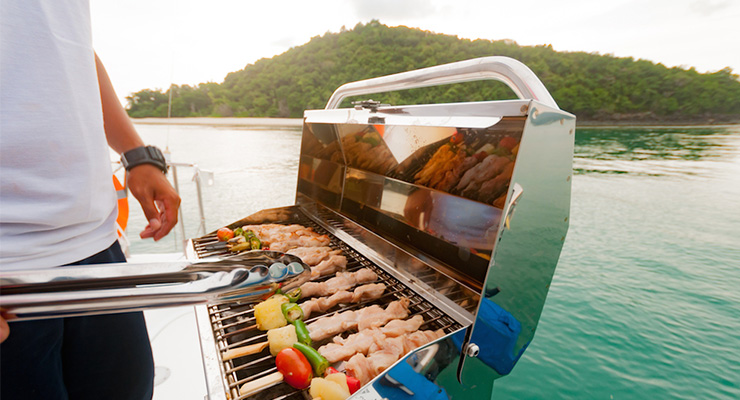 Eating out with your date on the Goan sea aboard a yacht is definitely fun. Want to add something even more fun to it? Why not?! A perfect dine out is an open-air BBQ aboard a luxury yacht charter in Goa!
Eating under the stars or over the ocean has its own charm. A perfect place with the perfect outdoor seating not just sets the mood right, but also gives a common topic to kickstart a conversation: that's the view I always wanted with my food!
Why do we recommend BBQ? As already known, fishing in Goa is bliss for so many people and for so many reasons. We at Champions Yacht Club give you one more reason to love Goa in the form of traditional fishing and BBQ'ing the fresh catches for an island trip. The beautiful waters can be enjoyed even more with our customized fishing trips that are full of relaxation and some sumptuous seafood from fresh catches of the day. Do not miss out on our Champion Fishing and BBQ packages in Goa and Dubai.
4. Do your Corporate Events in Style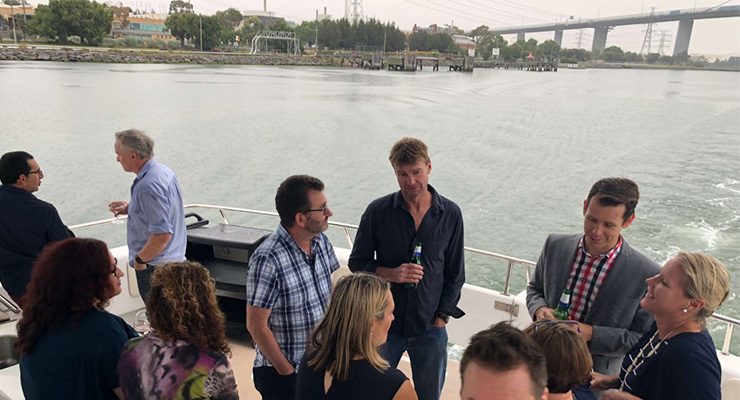 Don't get bored with the monotonous office board meetings. Because it is going to get better and much more fun when you really plan your office board meetings over our luxurious Yachts in Goa!
Do your corporate events in style! Take a break from the four walls surrounding your workplace and just relax and bond with your work friends and colleagues while you discuss your business talks onboard. Circle the calendar for a fun day and enjoy a corporate outing on a yacht!
Besides the healthy bonding that can happen between the employees and the long-needed break, the vast ocean might also be a muse to the creative travelers on board to think outside the box by generating new ideas! Sure, it sounds like you're still working. But isn't it more fun if you were brainstorming while cruising, dining, and chilling this time? Yup! A whole new better deal.
5. Plan Your Luxury Yacht Charter Wedding – in the exotic location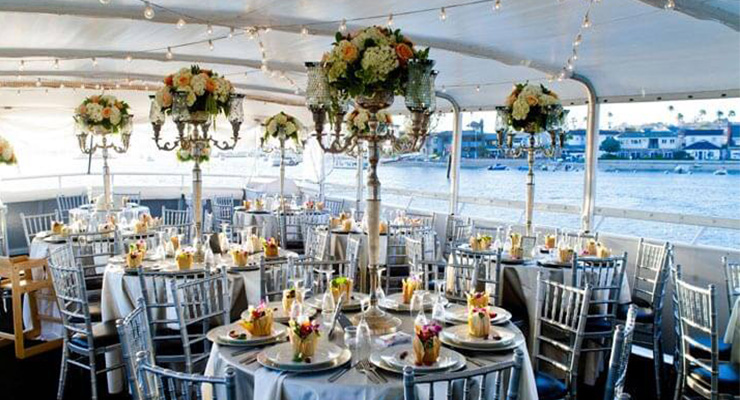 The elegance, privacy, and total indulgence make luxury yacht weddings among the most sought-after of all yacht charter experiences. It also is a wonderful way to kick-start a married life.
Getting married over a luxurious yacht could be one of the world's most stunning wedding experiences ever. If you're looking for that unique and dreamy wedding experience, then this is just the right choice for you. It will also be something that your guests will be talking about it forever.
Champions Yacht Club takes the uniqueness, luxury, and fun of having a wedding celebration to a different level by offering a wedding on a yacht rental. The beautiful beaches that our country is blessed with, especially in places like Goa and Vijayawada, can be the perfect storyteller of your wedding!
6. One-night cruise party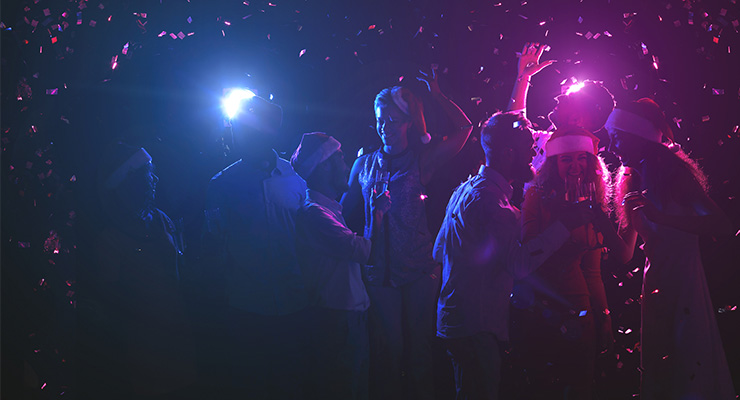 Champions Yacht Club's enchanting designed luxury yachts with well-appointed facilities make Cruise Party in Goa the most sought-after option for party animals. More and more tourists try to go for at least a one-night cruise party in Goa during their trip.
To make your wild night on a private yacht even crazier, our professional crew work in advance by getting in touch with you to understand how you want your cruise party and inform you of the affordable cruise party packages. Accordingly, we ensure there is enough food and beverages of your choice, the right music, décor if any, and pretty much anything else you want us to arrange. Bluetooth speakers, Wi-Fi are few other facilities that you get on board.
The best time to go for Cruise Party in Goa is from October to March because of the winter season as you will find the weather moderately cool and the waves much smoother. Whether it is a family trip, a corporate outing, or just a random getaway with your buddies, a Goa night cruise party should definitely make it to your itinerary.
7. Best-selling Yacht Packages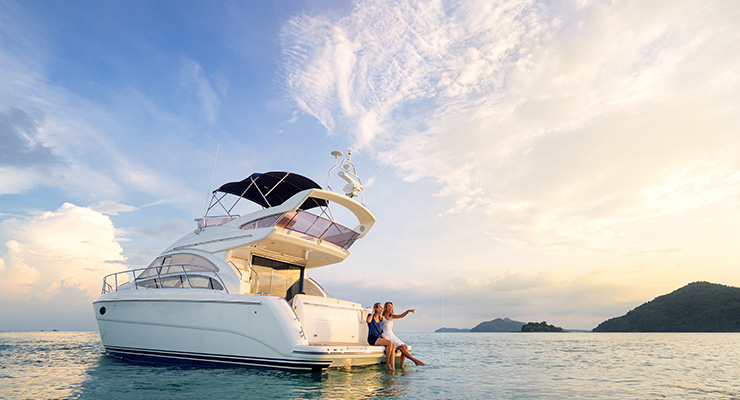 When thinking of vacation over a yacht, one of the first things you may think of is its beautiful landscape, relaxing beaches, and of course the fun water activities. After all, no yachting getaway is complete without spending some time in the sun and enjoying all the fun that comes with visiting the destination paradise.
Champions Yacht Club offers luxury, budget yachts, and private boat trip packages wherein you can never miss a chance to enchant yourself by the serenity of the beautiful Arabian Sea and the Mandovi River.
There are various kinds of luxury cruise packages at Champion yachts wherein you can select and customize the suitable one as per your likings & budget.
Planning an amazing party, get together, dinner cruise, or a corporate event? Charter a yacht with Champions Yacht Club and take the event to the next level! Check out our exclusive Goa packages on our website. De-stress yourselves as our well-trained Champion crew takes care of the rest!
See you soon. ❤️
Call us at +91 77740 62627 or write to us at booking@championsyachtclub.com