Goa tops the list when we plan for a vacation with our friends, especially for the youngsters in India who plans a trip to Goa since their graduation! Well, Goa does has some breathtaking views and adventure hidden inside to make justice for being on top of the list.
It's true that a plan to Goa is never successful when you play it bit by bit. A visit to this beach paradise is always ON when you expect it the least, hence, the budget compromises are understood. Nevertheless, Goa is indeed one of the most affordable hangout destinations which you can plan all of a sudden and make it a success.
Below mentioned are some of the tips that can help you in planning your entire expedition to Goa (irrespective of how much time you have to plan for the vacay), starting from staying, to visiting places, and relishing the authentic Goan appetizers.
Book ticket to Goa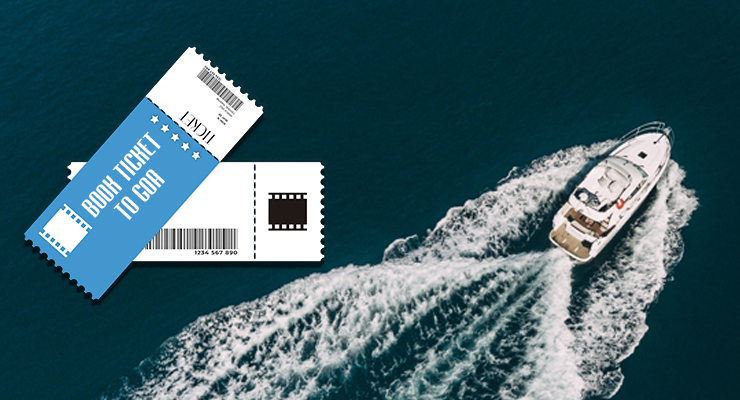 A travel to Goa is worth the journey if you make it by road or rail. The scenic views will surely count a lot and make your holiday more fun, unlike if you book a flight ticket. Traveling by train/bus would obviously be budget-friendly & easier on the availability list. Bus fares are a bit higher on price as compared to the train, BUT it would be the best option to reach Goa on the earliest instead of comparatively slower travel by train.
Hire a bike/scooty to explore Goa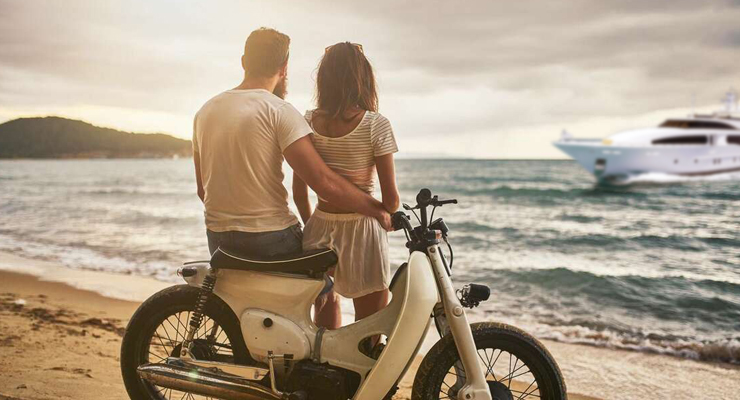 You always have an option of hiring a taxi from railway station/bus terminal/airport, but when you are in Goa & you want to explore it to its bits, it is best if you rent a motorbike or a colorful Vespa. The narrow trails, nooks and corners of Goa are worth visiting by your scooter.
It is affordable to rent two-wheelers within the cost of Rs. 500/- per day, and renting a car which would come around Rs. 1,000-1,500/- per day. Also, tourist buses are cheap too, if you are okay to travel with strangers & add some friends to your friend list.
So, now that you are sorted on the travelling part, let's plan for a stay in Goa.
Resort in Goa/ Hostel in Goa with a sea-facing view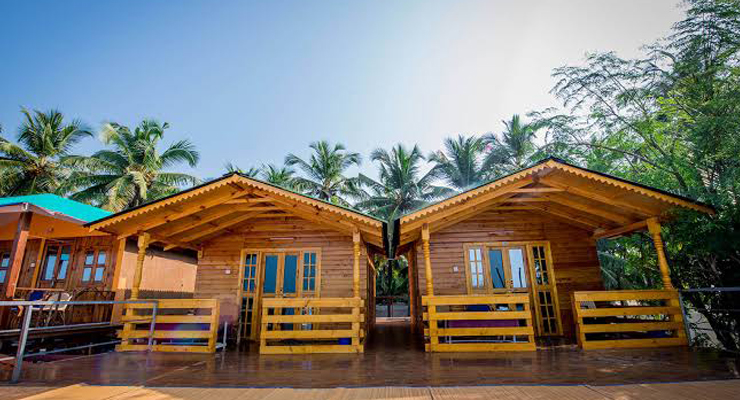 When you are in a beautiful place like Goa, surrounded by beaches, who would not like to wake up to the serene sunrise & bid goodbye to your day with a golden sunset. When it comes to booking a place in Goa to stay, South Goa is the cheapest and tranquil of all.
You can search for rooms on Airbnb, booking.com, and many other sites that offer the cheapest of rooms/resorts to stay. North Goa is the busiest hub but staying here in shacks aside the beach would make your stay super fun!
Affordable Adventurous Watersports in Goa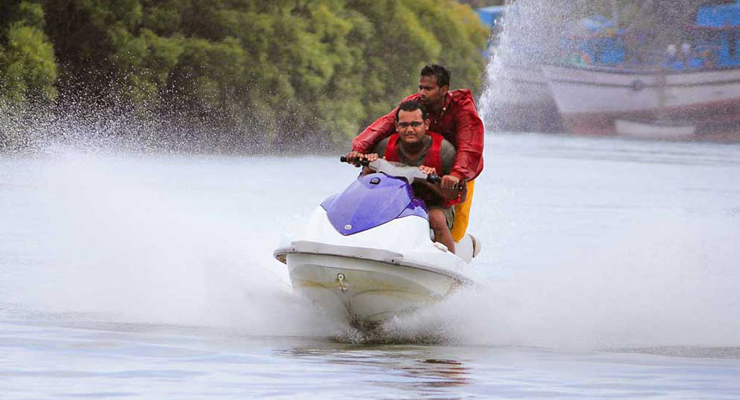 Beach vibes are the best! Being in Goa and not getting into Goan waters, is no win. Try out all kinds of water sports in Goa & make the most of it. Paragliding, speed boat rides, jet-skiing are some of the preferred water sports, you can also try dirt biking on the beach.
You can also try Champions Yacht Club where you not only get to avail luxury yacht services with amazing food, they also have an array of adventure water sports curated for your adventure crave. All this, and with an expert guide to make your yacht stay in Goa safe and comfortable.
Party in Goa | Play Casino |Booze in Goa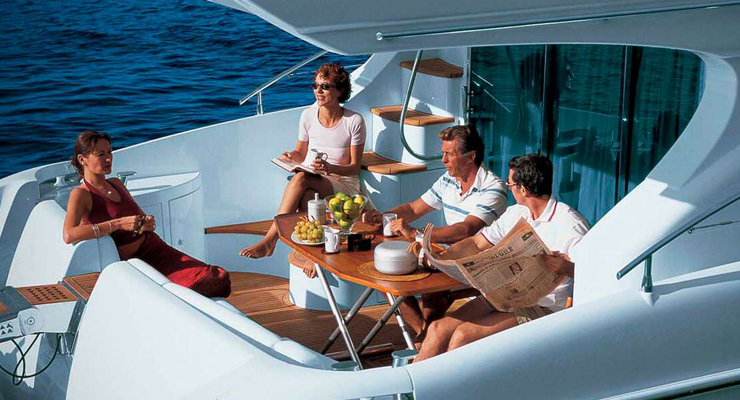 Know that North Goa is the hub for parties, casinos & best restaurants in the city. You can celebrate a day in most of the restaurants & groove to the best music at night clubs. However, a yacht party in Goa should also be on your bucket list; imagine cruising and partying on the Goan waters.
No doubt that you are unaware of the fact that people visit Goa just to booze, explore the cute cafes, & drive around the beaches in the city. Don't forget to visit the beautiful churches, spice plantations, and taste the authentic Pork Vindaloo in Goan sauce when in Goa, it is bliss.
Plan a trip to Goa during the off-seasons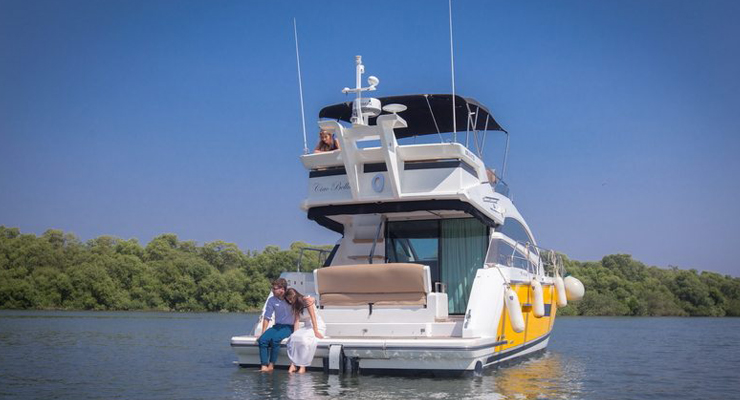 Most of the rush flows to Goa from October to January, this is the time when the hotel rates in Goa & Casino rates see a rise. If you are visiting during this time, try booking your stay early to enjoy the most of your stay without burning a hole in your pockets.
Alternatively, you can plan a trip to Goa in off-seasons like May to September. During this time, you might experience showers here and there, but it's no fuss. In fact, a rainy day in Goa is even more beautiful to explore the green abode.
Relish the Goan flavours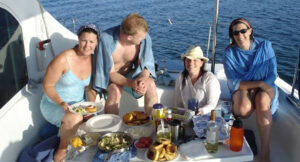 When you are in Goa, why not relish the true flavours of actual Goa? I personally don't prefer eating the usual dishes that you would get in any part of India, I would rather gobble the best or staple food of the place that would explode your taste buds with some truest of spices & taste.
So when you are in Goa, go for Goan & Portuguese cuisine that gives you the best of seafood and pork dishes. Savour the sour and spicy taste as much as you can and of as much variety as you want.
Suggestion: Try on the roadside or down-to-earth places that would serve with the magic of authentic Goa.
Shop from Goan Flea market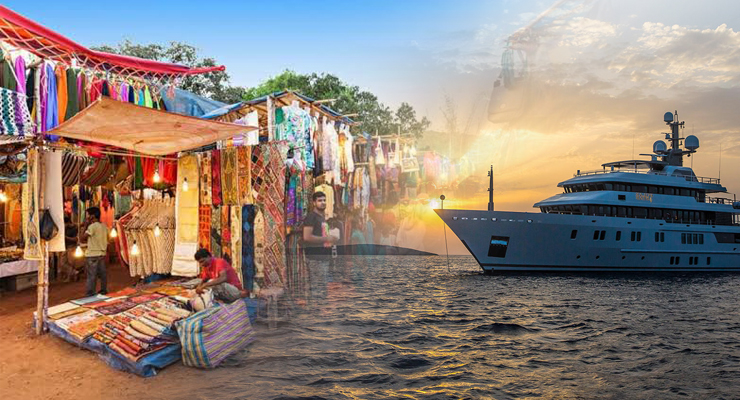 Shopping in Goa is underrated but visiting the flea markets are a marvel to your eyes. The collection of attires, cutlery, bamboo décor items the shops keep are quite budget-friendly. You can find a lot of shops by the beaches that sells some of the best things that would relate to your Goan vibe.
Fridge magnets, hats, the cliché "I love Goa" tees & ornaments made up of seashells & crystals that are really beautiful can be in your shopping bag soon! Buy something you can always have as a memory from Goa. I do it, every time I visit places.
So, here were some of the tips which would help you in closing your trip to Goa at max of Rs. 10,000/- for two to three days. You can always spend more if you wish to, in case you don't, you know how to manage it in lowest of expenses now.
Thank me later….
You can reach out to Champions Yacht Club to plan best arrangement for you. Click here.